Work positioning lanyard PROT 3 − rope with length adjuster and rope protection − PA braided rope, Ø 14 mm, sewn eye with optional karabiner on the rope end, karabiner AZ 011 on adjuster − 2 m − EN 358 − CE 0082
Positioning Lanyard PROT 3 has 2 connection points: One on the end and one on the sliding "brake" (the slider, which is moved to adjust the distance while working). Both have carabiners. The carabiner on the slider is attached to one eye on the harness (on the belt at waist level). At the point where you want to work on the tower, you thread the free end of the lanyard with the carabiner through a suitable fixed point on the tower and attach it to the other eye on the harness (on the other side of the belt). By sliding the rope in the slider (brake), you can easily adjust your half in relation to the place you are working on (with both hands free). The slider (brake) only allows free movement of the rope in one direction - it must be pressed to release it. Demonstration of the practical use of the positioning lanyard: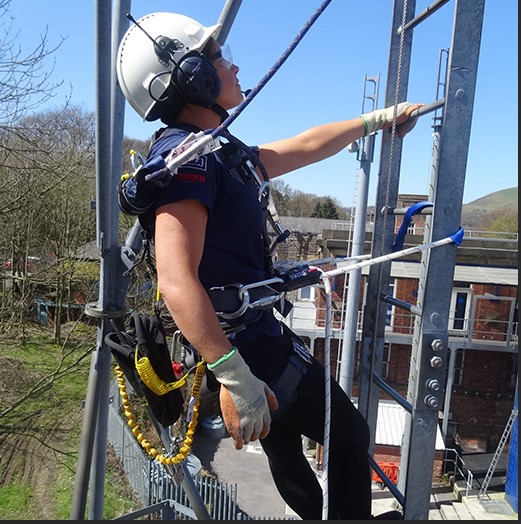 Warning
Durability of this Personal Protective Equipment is 8 years from the date of production. It is necessary to proceed annual inspections. Durability is stated by standard EN365/2004, par. 3.2, 3.3 and 3.4.
Instructional Manual